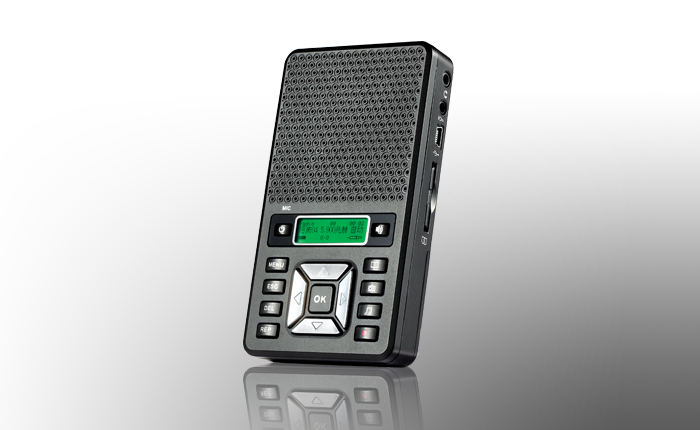 Enhanced version EV1000
The following is a the EV1000 enhanced version features a brief description, see attachments EV1000 enhanced version of the user manual If you want to learn more about.

EV1000 enhanced version iFLYTEK voice rising to a maximum TTS voice effects, smooth voice navigation and enjoy the pleasure of listening to books read natural.

EV1000 enhanced version of the CPU replacement is now 336M is more than 20 times the operating speed enhancement; documents open at the same time initialization speed is greatly increased, such as playing a to open a 3M TXT document, EV1000 enhanced version only
2.67 seconds ("Initializing, please wait" time), while the ordinary version of the E1000 30.05 seconds, which is 12 times the original is actually read.

EV1000 enhanced version of the USB interface upgrade to 2.0, quickly transfer files faster than the EV1000.

Fourth, the increase in e-book reading format, the EV1000 enhanced version supports TXT, HTM, HTML, DOC, DOCX, EPUB, PDF, EBK, EBD, DAISY format than the original EV1000 increase in DOC, DOCX, EPUB, PDF popular formats.

Five, the increased playing music format the EV1000 enhanced version of the play MP3, WMA, WAV, FlAC, APE, ACC, OGG, RA, M4A format music, EV1000 increase in F1AC APE ACC OGG \ RA M4V format than the original.

VI increased to listen video features, EV1000 enhanced version release RM, RMVB, AVI, MP4, 3GP, MOV, WMV, FLV, MPG, MPEG, DAT video formats, support breakpoint play and "AB" complex singing.

Recording the effect would be enhanced, replacement recording hardware, while recording formats into MP3, WAV, customers choose different recorded between formats according to different needs.

Eight, read the Daisy format the range increases, more convenient to use than ever before, and better use.

Nine to improve the reader's read and write SD card speed becomes faster.

10, an increase of Massage management system users: 10 users increased by 1 users.


Other functions, refer to the detailed instructions.

1.1 Features

● USB port, 2.0 high-speed transmission.
The fully USB flash, standard FAT32 file format.

● Support TXT, HTM, HTML, WORD, EPUB, PDF, EBK, EBD, the DAISY format files; compatible Simplified, Traditional, English (GB, BIG5, Unicode, UTF-8) text encoding.

● excellent TTS reading function, support voice navigation, and step-by-step prompts.
Boot to broadcast current status of the Mandarin, Cantonese or English and reading text files, smooth and natural, you can choose to enjoy the fun of listening to books.
There are set bookmarks, quick flip, sentence reading, auxiliary breakpoint memory function.

● a variety of reading the effect of choice, freedom of choice of male, female, echo, reverb, cynical variety of sound, adjustable speed, tone.

● Built-strong dynamic loud speaker, the sound quality is perfect.
Can play MP3, WMA, WAV, FlAC, APE, ACC, OGG, RA, M4A music formats, and supports RM, RMVB, AVI, MP4, 3GP, MOV, WMV, FLV, MPG, MPEG, DAT video formats, and support
breakpoint play and "AB" complex singing, but also read aloud in English lyrics.

● high compression ratio digital recording, support for built-in and external microphone recording, recording format support WAV, MP3 recording time of up to 35 hours or more.

● full-band digital tuning stereo radio (FM FM, medium wave MW, shortwave SW), can store 150 channels, search automatically stored radio frequency automatically.

● large-capacity removable lithium-ion battery.
Support for broadcast time and battery power, to support regular shutdown.

● The system software can be updated online.
The Windows ME/2000/XP/2003 the next free drive.

. ● Built 256M/2G Flash memory.
And has an SD card slot, you can easily expand the capacity of 32M ~~ 32G